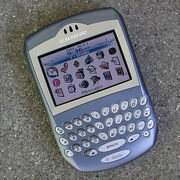 The Research in Motion Blackberry 7290 is the last 72xx series Blackberry, before the launch of the 7100 series. It supports all email solutions (BIS/Webclient, Redirector, and BES), and has bluetooth functionality. It is typicaly black, except for the TMobile version (pictured) which is a blue shade.
Specifications
Edit
Modes: GSM 850 / GSM 900 / GSM 1800 / GSM 1900
Weight: 4.90 oz (139 g)
Dimensions: 4.50" x 2.90" x 0.90" (114 x 74 x 23 mm)
Form Factor: Bar
Internal Antenna
Battery Life:

Talk: 4.00 hours (240 minutes)
Standby: 216 hours (9 days)

Battery Type: LiIon, removable
Display

Type: LCD (Color)
Colors: 65,536 (16-bit)
Size: 240 x 160 pixels

Memory: 32 MB (built-in, flash shared memory)
Phone Book Capacity: Only limited by memory onboard
FCC ID: L6ARAP40GW (Approved Sep 29, 2004)
black berry app error 523 blackberry error 523 jvm error 517 app error 523
External links
Edit
Ad blocker interference detected!
Wikia is a free-to-use site that makes money from advertising. We have a modified experience for viewers using ad blockers

Wikia is not accessible if you've made further modifications. Remove the custom ad blocker rule(s) and the page will load as expected.