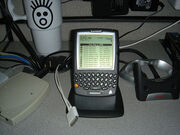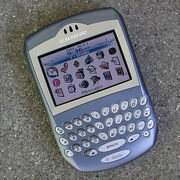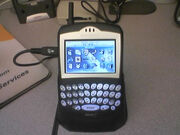 Early models:
Java-based models:
Phones with BlackBerry e-mail client
Edit
Several ordinary mobile phones have been released featuring the BlackBerry e-mail client which connects to BlackBerry servers. All these phones have full QWERTY keyboards.
BlackBerry PlayBook is the world's first professional-grade tablet. It was released in Canada and USA on April 19, 2011. And consumers can buy it from big brand retail stores (eg. Bestbuy) and also telecom carriers like, Bell.
See Also
Edit
External Links
Edit
Ad blocker interference detected!
Wikia is a free-to-use site that makes money from advertising. We have a modified experience for viewers using ad blockers

Wikia is not accessible if you've made further modifications. Remove the custom ad blocker rule(s) and the page will load as expected.